YOGA TEACHER TRAINING OVERVIEW – LEVEL 1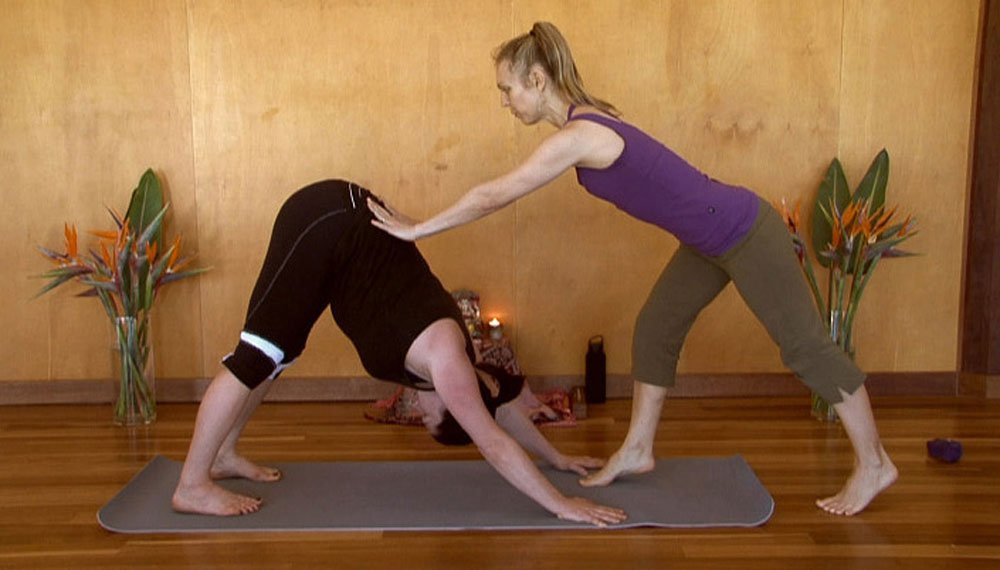 Interested in yoga teacher training, but not sure how to choose which one? Flo Fenton talks on a podcast for 'Changing the Face of Yoga' about the current standards, accreditation and ethical issues behind yoga teacher trainings, and highlights what questions you should be asking and what research you should be doing when making this important and life changing choice.
Check out the style of yoga by coming along to an online or face to face class.
Level 1 Part Time 300 hours/150 Hours Post Graduate Yoga Teacher Training:March-December 2021-Approved by Yoga Australia and Yoga Alliance- CLICK FOR DETAILS
Call me on 0418 441 437 to discuss!
This training is now offered in multiple formats!

Fully face face to face-part time, one day a week (Wednesdays)
Live Online via zoom link up one day a week (Wednesdays)
Flexible online learning (watch pre-recorded sessions in your own time) for up to 30 of 35 training days
Course founder and main teacher Flo Fenton of Australian Yoga Life Magazine.
"This course will provide you with all the skills, confidence and understanding to begin a rewarding career in yoga teaching. Most importantly though, I will share with you knowledge tools and the experience of doing your life in a deeper, more connected, more satisfying way."-Flo Fenton.
If you place a high value on authenticity, depth of knowledge, and maintaining the ancient tradition and culture of yoga to gain and impart all of its benefits, not just at the level of the body but beyond, this training could be the one you've been searching for. Flo Fenton has a vast array of skills and depth of knowledge gained over thousands of hours of training with the giants of yoga, and 20 years of teaching experience. Intouch Yoga Teacher Training will teach you how to work with yoga not just as a physical exercise, but as it was intended, as a way of accessing prana, the life force. This approach enables you to fine tune not just your own practice, but to make your teaching accessible, beneficial and unique to each individual student.
Intouch Yoga Teacher Trainings are intimate and personal boutique trainings with numbers less than 16 students. This  provides for what Intouch Yoga believes are essential opportunities to ask questions, and receive personalised instruction during the training, as well as allowing for plenty of time f or each student to  practice class teaching. By the end of each training, you will have taught at least one (and usually several) full supervised classes with feedback.
A strong focus on injury prevention, yoga for individual needs, functional anatomy and bio-mechanics differentiates this training and the skills that you will learn.
200 OR 350 HOURS – STANDARDS AND ACCREDITATION
Level 1 – 200 hours
200 Hours is currently the minimum required training hours to enable to be qualified to teach in most countries, including Australia. Intouch Yoga offers 200 Hour Level 1 Yoga Teacher Training intensives to ensure that you are qualified in the shortest time possible, yet still with a high level of understanding and skill. You can also complete 200 Hours only if doing the Part Time Yoga Teacher Training (see below.)
The 200 Hour Yoga Teacher Trainings are approved by Yoga Alliance.
Level 1 – 350 Hours
350 Hours is the minimum number of training hours allowed in order to be approved as a Level 1 teacher by Yoga Australia. Being a member of Yoga Australia has benefits including reduced rates for Public liability Insurance, and an assurance that you have been trained to the highest standard possible as a Level 1 teacher.
Our Part Time Level 1 Yoga Teacher Training gives you the option to complete either 200 or 350 hours and be registered with either, or both associations.
As a graduate of our 200 hour registered training program you will be able to become a registered Level 1 teacher with Yoga Alliance, and qualified to teach in Australia and internationally as soon as training is completed.
You will also be eligible to become a Yoga Australia Provisional Member and? receive a number of membership benefits.
By completing our 350 hour program you will be eligible to become a Yoga Australia Registered Teacher, which provides the added benefits of being listed as a Registered Teacher, qualified to teach in Australia and many other countries.
The Level 1 200 hours Yoga Teacher Training gives a sound foundation in how to teach classes and small groups, with an emphasis on safety and injury prevention and management. Continue to the 350 hours to begin to learn the skills of teaching privately, catering to individual needs at a higher skill level.
We also offer an in depth Level 2 150 Hour/300 Hour post graduate yoga teacher training which has a strong focus on yoga for individual needs.
For information on Yoga Australia standards go to Yoga Australia
For information on Yoga Alliance and it's standards, go to Yoga Alliance
WHAT IS DIFFERENT ABOUT THIS YOGA TEACHER TRAINING?
The course is offered with a sincere desire to make the transformation that is yoga accessible, and to raise the general level of yoga teaching in our country.
The aim of this training will be to lay the foundations of understanding both the subject and ourselves, so that we may then offer guidance to others.
The course is offered in a one day per week format – March to December in Suffolk Park/Broken Head.
What differentiates this training above all else is its focus on learning how to MODIFY the classical practice of yoga to suit the needs of the individual. Flo Fenton has long been known for her ability to adapt the practice of yoga using props and variations of the classical postures, as well as using supplementary yoga practices and pranic work towards a specific outcome. In this way those with physical limitations, injuries or deeper health issues are able to safely and beneficially use yoga as a tool towards optimal health and well-being. This ability to adapt the practice to suit individual needs was at the heart of the teachings of Sri T Krishnamacharya, the teacher of BKS Iyengar, Sri K Pattbhi Jois, and TVK Desikachar. It is the basis of what is now called Yoga Therapy.
For a sneak peak at one of the sequences for special needs that are a feature of this training CLICK HERE.
INTOUCH BYRON BAY YOGA VIDEO
Want to get a 'vibe' for the training? Check out our 3 minute 'taste' of Intouch Yoga!
" This teacher training has opened up a whole new world of knowledge and practices and ways of effecting positive change in my body and mind – something I will forever be grateful for. I've developed patience for myself and others, the ability to enjoy time off without feeling guilty or inadequate, the ability to be fully present in this moment without always planning for future moments, and the skill of acceptance."
"This teacher training has been so life changing and affirming for me. Developing a regular home practice of not only asana but also pranayama and meditation has given me so many tools to see through every day, and a new understanding of myself. A wonderful nine months gestation with the birth of a brave new me.
Thankyou from my heart."
" For me, the Intouch Yoga Teacher Training has been a journey of personal transformation. It has given me a comprehensive intellectual and experiential understanding of exactly how the yogic breath techniques work to calm the nervous system and how together with asana and meditation this ancient practice of yoga provides a comprehensive approach to healing the body, mind and emotions – a powerful tool of personal transformation that I hope to offer to others."
"Dear Flo,

I wanted to write you to tell you that I am so happy with how the teacher training went last month. I have wanted to do this for several years now and feel so lucky that I decided on your teacher training. I learned so much about yoga and you inspired me to learn more than I thought possible in the time! Your teaching and the teaching of the other instructors that were part of the course have inspired me to keep learning and deepening my understanding of yoga.

Thanks again for all of the work that you put into making our teacher training experience so amazing. It was fabulous and beat everyone in the class? expectations".
"I researched the options thoroughly before making a choice of schools- and even though I have many schools in my vicinity (Melbourne) I still decided to travel to attend the training. Intouch Yoga Teacher Training ticked all boxes! I wanted to do an intensive training, but one month off work was not possible. The 2 x 2 weeks was very achievable. Flo came highly recommended from my yoga instructor, and I could immediately see why. Flo is an amazing teacher with such an abundance of knowledge and energy! By the end of the first 2 weeks I felt so much more focused and re energised. I?m now half way through my yoga study and am really looking forward to getting back to Byron Bay for the second half. I highly recommend Intouch Yoga Byron Bay to anyone wanting to study Yoga. Flo is a fabulous teacher, the location is superb and food amazing".